We're always trying to help West Virginia and Maryland counties manage their waste better. The better we manage our waste, the better for the environment and our neighborhoods. Waste management reduces air pollution, illnesses, and environmental impact. At our free 24/7/265 recycling drop-off centers, we accept all types of recyclables.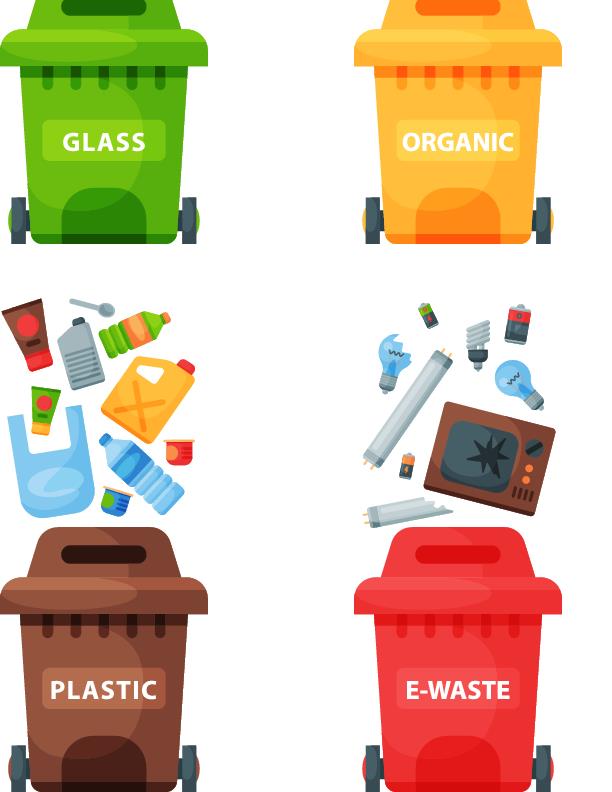 Recycling in West Virginia and Maryland
At Sunrise Sanitation we have been rewarded and recognized for our efforts in waste reduction and recycling programs. Not only do we provide curbside garbage and recycling pick-up in residential neighborhoods, as well as businesses and job-sites, but we have free 24/7/365 recycling drop off centers throughout West Virginia and Garrett County, Maryland. These drop-off centers are available to all residents in West Virginia and Maryland. However, if you want to avoid having to take the time to drop-off your recyclables, sign up for our waste management services.
Recycling drop off centers in West Virginia
The following are the recycling drop-off locations in West Virginia. Make sure to properly separate your recyclables and bag them before dropping off. All bottles and cans should be washed out and empty. If you are recycling used oil, be sure to call us to make sure that you are dropping it off at the right location.
Thomas, WV (located behind the Thomas Post Office)
Gormania, WV (located at the intersection of Rt. 50 & Rt. 90)
Canaan Valley, WV (located at the Canaan Valley National Wildlife Refuge Center)
Hendricks, WV (located across from the Hendricks Post Office)
Parsons, WV (located in the parking lot next to the Family Dollar)
Mt. Storm, WV (located at Getz's Market)
Recycling drop-off centers in Garrett County, Maryland
We have 6 recycling drop-off centers in Garrett County, Maryland. The same rules for recycling apples at these locations. Absolutely no trash should be dropped off, and all your recyclables should be clean, separated, and bagged.
Kings Run / Mt. Nebo Site (1631 Kings Run Road 1/4 mile North of Oakland on Kings Run)
Garrett Highway (10180 Garrett Highway 1 mile South of Oakland on Rt. 219 Backbone)
Rt. 135 Site (12091 Maryland Hwy 1/2 mile West of Swanton Rd (Rt. 495) on Rt. 135)
Bumble Bee Road (1367 Bumble Bee Rd 1 1/2 miles East of Garrett College on Bumble Bee)
Friendsville (8397 Friendsville Road 3/4 mile Northwest of Friendsville on Rt. 42)
Grantsville (13168 National Pike 1/4 mile East of Rt. 219N on Rt. 40)
If you want Sunrise Sanitation to pick-up your garbage and recycling on a regular basis, talk to us about our waste management services for your home, business, and job-site.